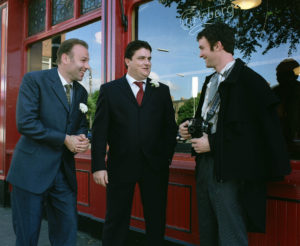 Writers/ Directors: John Carney, Tom Hall & Kieran Carney.
Cast: Simon Delaney,
Keith McErlean, Don
Wycherley & Marcella Plunkett.

Comedy-drama based around three single men living in a house on Dublin City's Bachelors Walk. Shot in and around Dublin, three series of the programme were broadcast.
The drama revolves around Raymond (Don Wycherley), a film critic who is pining after his ex-girlfriend; Michael (Simon Delaney), a briefless solicitor afraid of commitment to his current girlfriend; and Barry (Keith McErlean), a naive ne'er-do-well who collects his dole while managing a number of street performers.
Winner of the 2003 Irish Film & Television Academy award for Best TV Drama.